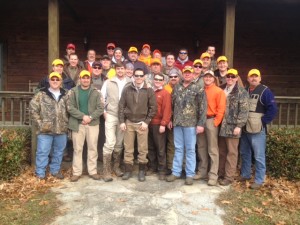 Here in the Deep South, no other sport can match a good quail hunt. Cameron Quail Preserve is known for its well trained dogs and biggest quail coveys with the most wild hunting experience. When the leaves rustle and the covey flushes, you'll know it's about more than shooting.
We have trained dogs since 1962 and put on thousands of hunts and are passionate about hunting, taking great pride in working the dogs. Started in 1962 by the late Bubber Cameron, the traditions and legacies were passed down to his sons, John and Rush. The same family values Bubber instilled in his sons, are now being passed along to the third generation of Cameron's involved in the preserve.
Full and half-day packages are available. A typical hunt starts around 8:30 am. Hunters are carried to the field where they spend the morning hunting Bobwhite Quail in at least 7-10 coveys with 20-50 birds in each covey. Around noon, it's back to the lodge for a hearty southern style meal. Our afternoon hunt runs from 1:30 to 5:00 pm, and are held in a different section of the property with different coveys and the same large numbers.
Each of our fully equipped hunting buggies can accommodate six guests with drinks and dogs.  If you'd like to bring your own Cameron trained dogs for the hunt, we have kennels available. We can accommodate all hunters of all ages, keeping you fresh for a full day of hunting. Our experienced hunting guides are family, with a heart for the sport and dedicated to providing hunters with a memorable experience to last a lifetime.